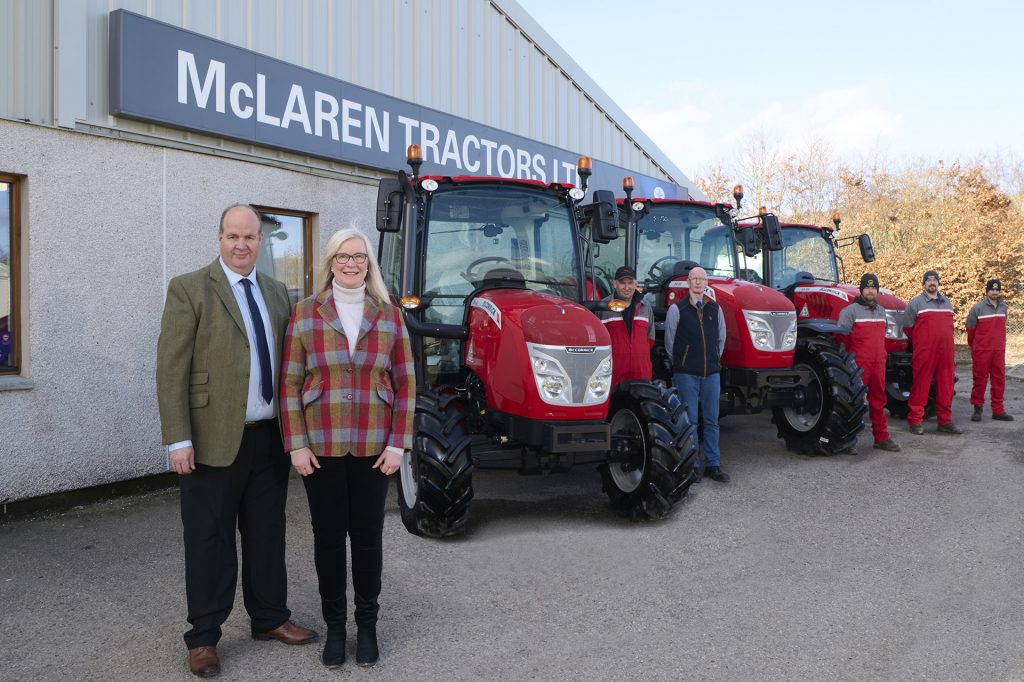 McLaren Tractors has chosen McCormick to be its premium tractor partner among the company's farm machinery offering for Highland farmers, with the business recently signing an agreement to sell, service and support the marque across the region.
The company has served farmers, crofters and sporting estates in the Highlands since its foundation in 2003 by George and Fiona McLaren. Since then it has expanded its franchise offering to encompass a number of high-quality machinery makes suited to the region's harsh environment, and this is where McCormick fits in well, believes George McLaren, who has over thirty years' experience in the industry.
"We have a well-established tractor sales business, and are looking forward to building on this with McCormick," says George. "We know McCormick has a reputation for producing quality, long-lasting machinery suitable for the demands of Highland farm life. We are excited to be bringing such a highly regarded brand to McLaren Tractors".
"We've already added a trio of stock tractors to our fleet, which are all available for demonstration. They comprise a 120hp X6.420, a 115hp X5.55 and a 70hp X4.30, representing three ranges and model sizes which are well-suited to the needs of local farmers and contractors."
The business has a staff of eleven, with George running the sales department and James White as territory manager. Sam Cowan manages the service department, supported by four time-served engineers. The office is managed by Fiona McLaren, who won the prestigious Highland Business Woman of the Year Award 2009, and is also the business's company secretary.
McLaren Tractors was founded in small rented premises in Dingwall, before buying a nearby site in 2013. The building here was extensively remodelled to suit the needs of a modern machinery dealership, with wifi throughout and a new showroom area for ATVs, tools, toys and clothing. Further refurbishment took place just last year, including new lighting and insulated cladding.
"The new McCormick signage is up at our premises, we are well-stocked with parts, and our technicians are undergoing their service training," says George.
"We are very much looking forward to showing both existing and new customers the quality and capabilities of the range of McCormick tractors."